Victoire Veller - ESDES Alumni 2007
FROM HER TIME AT ESDES, VICTOIRE REMEMBERS...
The taste for teamwork and the spirit of cooperation: she remembers Fabienne Gautrot and Laura Servant Volquin who knew how to share their passion for marketing. Now she uses the project management and teamwork skills she first experienced in class at ESDES on a daily basis.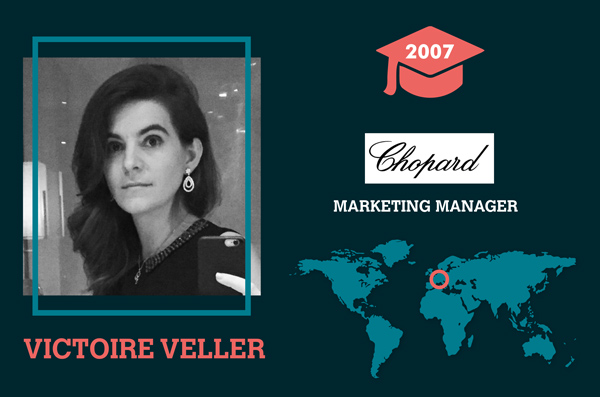 TODAY SHE IS:
High Jewellery Marketing Manager at Chopard in Geneva. With her ESDES Master's degree in hand, specializing in Marketing & Sales, Victoire left for Shanghai to complete her final year internship in a digital marketing agency. She decided to learn Mandarin and settled for 9 years in the huge Chinese metropolis. She worked there as a project manager in a design agency and then as a journalist and producer for Chinese TV. She was then in charge of fashion and film festival themes for all the world's major luxury brands. While on set, she met Chopard, for whom she became marketing and communication manager for the Asian market before joining the company's headquarters in Geneva in 2015.
FOR HER, THE NUMBER 1 QUALITY OF A GOOD MANAGER IS …
A good manager is first and foremost like a good orchestra conductor. Managers must know how to identify each person's talent in order to find their ideal place in a project and help them to improve and blossom. To succeed, managers also have to be "problem solvers" who keep calm in all circumstances.