A School Committed to Change
ESDES (Ecole Supérieure pour le Développement Economique et Social) is a leading business school in sustainability committed to striving for change. For over 35 years ESDES's mission has been to prepare its students and professionals, through teaching and research, to create sustainable value in a globalised and digital world.
By fulfilling this mission, ESDES has helped to develop a responsible economy supported by its staff, partners, alumni and students.
ESDES has also committed to the United Nations' Principles for Responsible Management Education (PRME). The initiative assesses the ESDES's social impact on its environment by challenging the school's role, thereby ensuring that responsibility and sustainable development gain ground in business culture. ESDES was also awarded BSIS certification in May 2021, which has enabled the school to assess its impact on the region.
What is PRME?
PRME stands for Principles for Responsible Management Education. It is a United Nations @globalimpact initiative aimed at promoting responsible management education, research, and practices. The six principles focus on the school's objectives, values, teaching, research, partnerships and dialogue with stakeholders in terms of CRS. The principles are closely aligned with the 17 UN Sustainable Development Goals (SDG).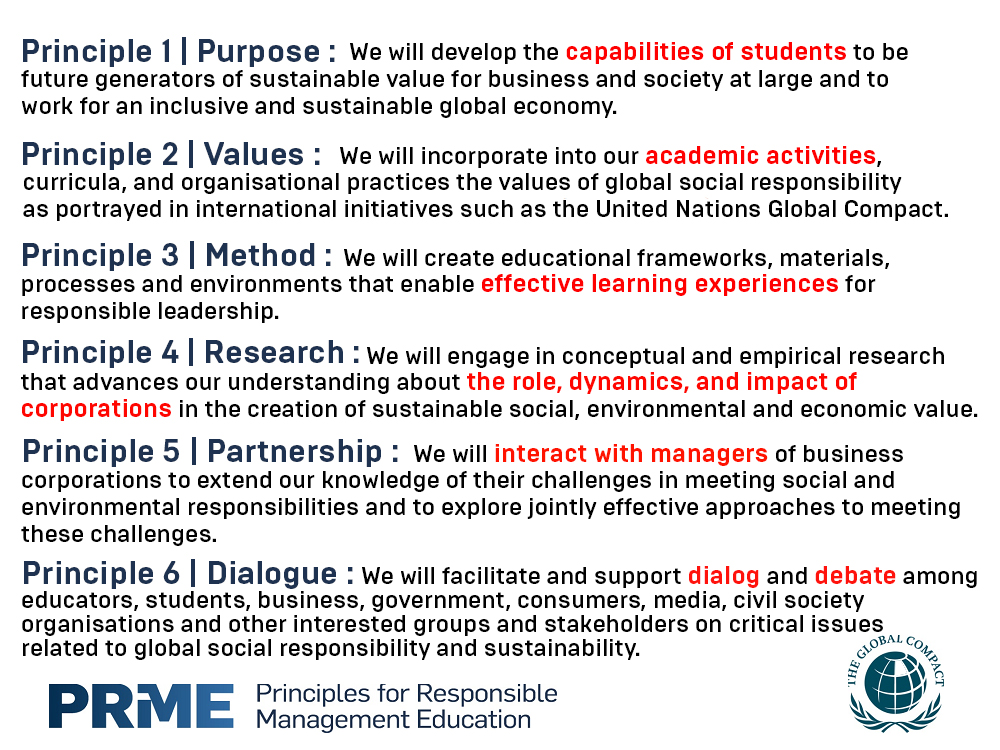 Organisations that have signed up to PRME commit to regularly (at least every 2 years) sharing information about the progress they have made in implementing the Principles for Responsible Management Education. This information is collected and published in a SIP (Sharing Information on Progress) report.
ESDES signed the PRME initiative in April 2017 and has been a member of the France-Benelux Chapter since 2018.
What is a SIP (Sharing Information on Progress) report?
SIP reports are structured to follow the 6 PRME principles and they set out the school's CRS achievements in the fields of teaching, research, company partnerships, dialogue with stakeholders, and community projects. ESDES's SIP reports attest to the school's CRS objectives and progress. They also embody ESDES's desire to set the gold standard in responsible management.
Our SIP reports are created using a rigorous diagnostic process to establish an overview of the school's main achievements. For our SIP reports, seventy ESDES stakeholders are interviewed, including roughly ten students and responsible student associations, thirty members of teaching and research staff, and thirty administrative staff. The interviews last an average of 1 hour 20 mins and are supplemented by rigorous documentary research.
Why did ESDES sign up for the PRME initiative?
By committing to the PRME initiative, ESDES committed to implementing the 6 Principles for Responsible Management Education. The principles have enabled the school to question its own practices and assess them with a view to progressing and continually improving. By committing to PRME, ESDES has been able to involve its employees, teaching staff, and students in the process of improving and creating new synergies and partnerships built around CSR.
The next step for ESDES is to apply for DD&RS (Sustainable Development & Social Responsibility) certification awarded by the prestigious French university governance bodies, the CGE and CPU. DD&RS certification will further boost the school's CRS commitments and leadership and help to rally the entire community behind the values and commitments that the school has set out in its strategic plan: ESDES Responsible Future 2025.
Inès Dhaouadi, a research professor at ESDES and the PRME project manager, explains ESDES's commitments.