Louis Bonduelle - ESDES Alumni 2014
FROM HIS TIME AT ESDES, LOUIS REMEMBERS
Memories from abroad, friends of course, but also a solid background of varied skills, all of which are necessary in the day-to-day running of his company. Being able to talk to a lawyer, a salesman, a banker, a marketing manager etc. are major assets when you are developing a company. Without necessarily being an expert, you have to be able to make yourself understood, make certain decisions and evaluate results.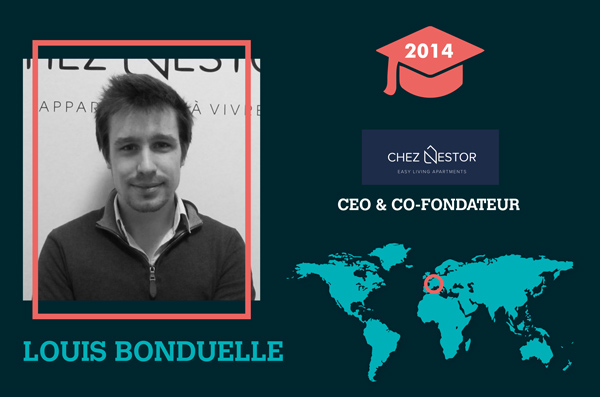 TODAY HE IS:
Louis is CEO at Chez Nestor, a company founded in 2012 with Hubert Dubois while Louis and Hubert were still students at ESDES. In 2014, the start-up found its business model by renting housing from property owners or agencies to renovate and furnish them, then presenting them as ready-to-live-in house-shares to urban nomads. This was the first step on the path to success!
The company is now the French leader and already has around 30 employees and hundreds of properties in Paris, Lille, Montpellier, Lyon and Toulouse, and soon in Madrid and Bordeaux.
FOR HIM, THE NUMBER 1 QUALITY OF A GOOD MANAGER IS…
Humility, because management is not an exact science and 100% of managers make mistakes. Good managers must admit that all the mistakes made by their team originate with them - there are dozens of possible causes: unclear objectives, training, recruitment, anticipation, career development.... but on the other hand, their success is also bound to the performance of their team. So for me, managers are either responsible for failures or co-creators of success.